Show Times
Timezone
:
EST
[UTC-5]
Fri:
About the Show
Weekly Dose Of … Is an eclectic music show with varying themes.  Our show themes change week to week, but are centered around vinyl music, the resurgence of vinyl, collecting, and listening.  We will delve into the history around the records and artists, and personal tales associated with the music being played.
We love talking and sharing our personal stories about the music.  Do you remember your first record purchase or the first time the music grabbed you?  Come listen with us, and if you are inclined, call in and share your own stories.
Recent podcast episodes
"Nektar is an English progressive rock band formed in West Germany in 1969, by guitarist and lead vocalist Roye Albrighton, keyboardist Allan "Taff" Freemon, bassist Derek "Mo" Moore, and drummer Ron Howden.
[…]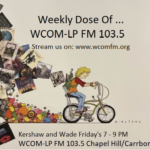 If you're a vinyl lover, you have found a place to call home. Spinning vintage vinyl and music typically not found in the mainstream is what the show is all about.
[…]
Sunday, April 10, 2022, we are presenting a film screening of Vinyl Nation at The Chelsea Theater in Chapel Hill. Our new DJs Bernie Wade and Erik Kershaw (A Weekly Dose of...) will be spinning tunes.
[…]